About Me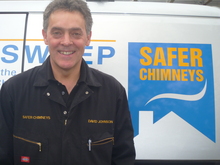 My career began with an apprenticeship as an Aero/Engine Fitter, spending 10 years in the Civil Service maintaining and repairing helicopters at Fleetlands in Hampshire.  I spent the next 24 years in Public Service, so my career to this point had given me skills in communication, customer care and attention to detail which I've taken into my new career as a chimney sweep.
When I embarked upon this new career, I wanted to ensure that I learnt my trade properly so I joined the National Association of Chimney Sweeps (NACS) and completed their course in their specialist training unit in Staffordshire.  The training didn't stop there…I went on-the-job training with a Director of NACS who completed the process with an assessment to ensure my skills and equipment were of a suitably high standard so I could deliver a professional chimney sweeping service.
Since then, I have kept my training and research up-to-date so I can advise my customers and deliver an efficient service.  My latest investment was in the technology and specialist training for Power Sweeping.
Chimney swept and also some good advice given, which was appreciated
"A very kind and professional person who gave me lots of good advice and did a great job!"
Customer in Southsea